Charlotte-Mecklenburg Schools (abbreviated CMS) is a local education agency headquartered in Charlotte, North Carolina and is the public school system for Mecklenburg County. With over 135,600 students enrolled, it is the second-largest school district in North Carolina and the eighteenth-largest in the nation. The system is best known nationally for its role as the respondent in the landmark 1971 Supreme Court decision Swann v. Charlotte-Mecklenburg Schools.
Governance
The Charlotte-Mecklenburg Board of Education, or school board, consists of 9 membersâ€"3 at-large and 6 from districts. Before 1995, the board had been elected entirely on an at-large basis, but this was changed after it was discovered nearly all of the board members lived in the eastern part of the county. Members serve staggered four-year terms; the at-large members are elected in the year before presidential elections and the district members are elected in the year after presidential elections. Although school board elections are nonpartisan, the district members are elected from the same districts as the county commissioners.
List of Superintendents
Superintendent of Charlotte City Schools
T.J. Mitchell (1882â€"1886)
Professor J.T. Corlew (1886â€"1888)
Dr. Alexander Graham (1888â€"1913)
Dr. Harry Harding (1913â€"1944)
J.W. Wilson (1944â€"1949)
Dr. Elmer Garinger (1949â€"1960)
Superintendent of Charlotte-Mecklenburg Schools
Dr. Elmer Garinger (1960â€"1962)
Dr. A. Craig Phillips (1962â€"1967)
Dr. William Self (1967â€"1973)
Dr. Rolland Jones (1973â€"1977)
Dr. Jay Robinson (1977â€"1987)
Dr. Peter Relic (1987â€"1991)
Dr. John Murphy (1991â€"1996)
Dr. Eric Smith (1996â€"2002)
Dr. James L. Pughsley (2002â€"2005)
Dr. Frances Haithcock (2005â€"2006)
Dr. Peter Gorman (2006â€"2011)
Hugh Hattabaugh (2011â€"2012)
Dr. Heath Morrison (2012â€"2014)
Ann Blakeney Clark (2014-
High schools
CMS operates 20 high schools, not including alternative schools or "schools-within-a-school". The following is a list of those high schools, divided by geographical region of Mecklenburg County, along with the year opened and mascot:
University and Northern Mecklenburg
Hopewell High School (2001, Titans)
Mallard Creek High School (2007, Mavericks)
North Mecklenburg High School (1951, Vikings formerly Rebels) (Former Colors: Red & Black)
Zebulon B. Vance High School, part of the Governors Village complex (1997, Cougars)
William A. Hough High School (2010, Huskies)
Mint Hill, Matthews, and Eastern Mecklenburg
David W. Butler High School (1997, Bulldogs)
East Mecklenburg High School (1950, Eagles)
Garinger High School (1909, Wildcats: formerly Charlotte High School until 1959)
Independence High School (1967, Patriots)
Providence High School (1989, Panthers)
Rocky River High School (2010, Ravens)
Pineville and Southern Mecklenburg
Ardrey Kell High School (2006, Knights)
Myers Park High School (1951, Mustangs)
Olympic High School (1966, Trojans)
South Mecklenburg High School (1959, Sabres)
Western Mecklenburg
Phillip O. Berry Academy of Technology (2002, Cardinals)
Harding University High School (1935, Rams)
Northwest School of the Arts (1996, Dragons) (No Athletic Program)
West Charlotte High School (1938, Lions)
West Mecklenburg High School (1951, Hawks: formerly Indians)
Former high schools
E. E. Waddell High School was located in the Pineville and Southern Mecklenburg district and closed with the end of the school year 2010/11 (2001â€"2011, former mascot: Raiders)
Elementary and middle schools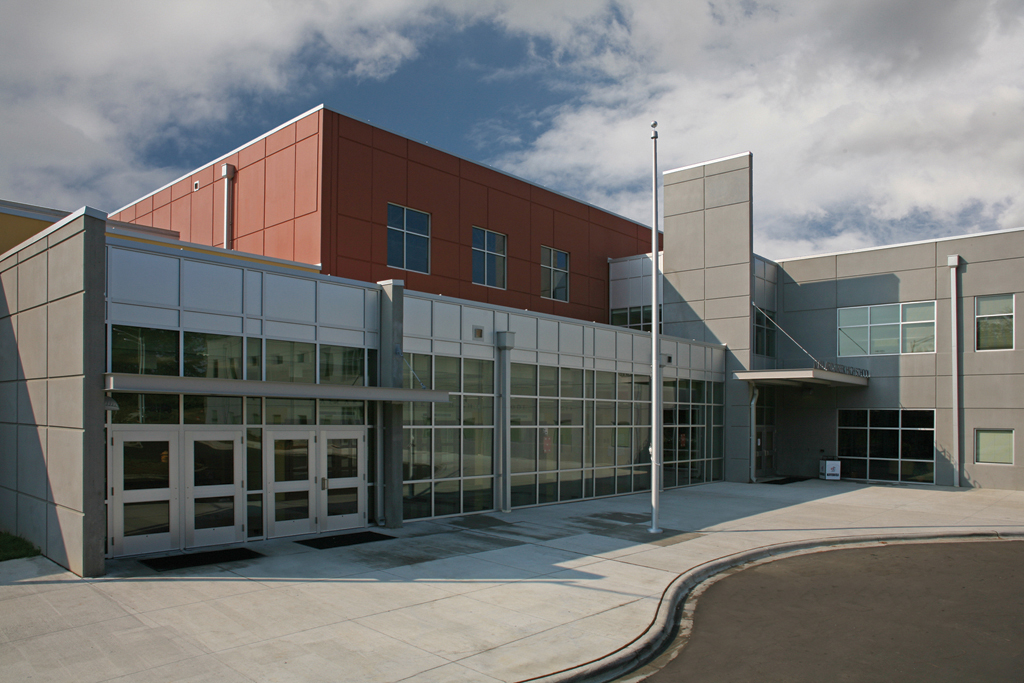 CMS also operates 94 elementary schools and 32 middle schools.
Achievements
Several CMS high schools have been recognized by Newsweek as being among the 100 best high schools in the United States, a statistic based on the number of advanced classes that are offered to students.
During the 2006-2007 school year CMS students received $43.5 million in academic merit-based financial aid from universities and other organizations, and $12.1 million in athletic scholarships.
Criticisms
Judge Howard Manning
In May 2005, Wake County Superior Court Judge Howard Manning Jr. issued a ruling in which he accused CMS of "academic genocide" against at-risk, low-income students in low-scoring high schools. Since the debut of its new student assignment plan in 2002, and the end of its court-ordered busing program, CMS has seen an increase in concentrations of poverty, with schools that have student-poverty rates of at least 75 percent at twice the number they were before. In the same year, Judge Manning also threatened to close 4 of the lowest performing high schools, Garinger, Waddell, West Charlotte and West Mecklenburg. Many teachers and parents felt he had gone too far, and, in the end, this never occurred as the 4 high schools presented turnaround plans and their principals were deemed capable of carrying them out. The high schools are now included in a special Achievement Zone.
2005 and 2007 bond packages
56% of voters rejected a $427 million bond package in 2005 to improve facilities and build new schools for the first time in a decade. Dissenters cited spats between members of the school board and other well-publicized events that year hurting their confidence in the district's ability to spend money effectively. A $516 million bond package was backed by 68% of voters in November 2007.
Decentralization
Calls for decentralization mounted in 2005 as dissatisfaction with CMS grew, with some wanting CMS broken up into smaller school systems. One notable incarnation of this movement was called DUMP (Don't Underestimate Mecklenburg Parents) CMS. This effort abated when the Board of Education requested and newly hired Superintendent Peter Gorman outlined a plan for decentralization, with the stated goal of putting resources and administration closer to parents and other members of the public. Regional offices known as "learning communities", each with an area superintendent, were implemented in the 2007-2008 school year.
References
External links
Official website

History of CMS