An Anesthesiologist Assistant (AA) is a non-physician anesthesia provider who practices anesthesia under the medical direction of an anesthesiologist. The AA works as an integral member of the anesthesia care team (ACT).
General description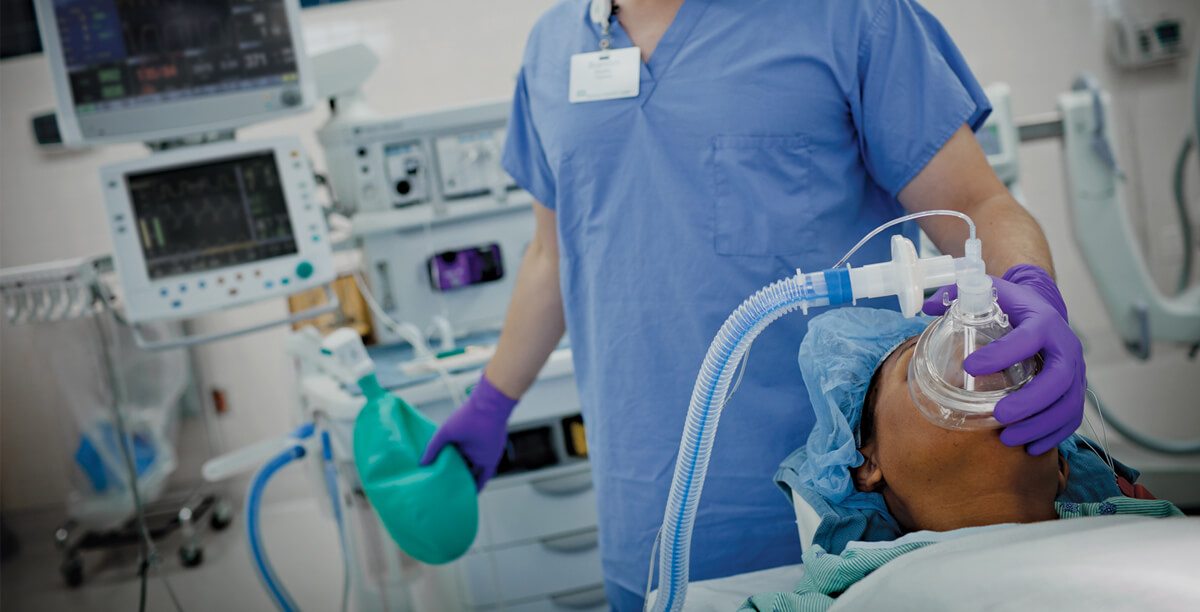 An anesthesiologist assistant (AA) is a non-physician anesthesia provider qualified by advanced education and clinical training to work cooperatively with an anesthesiologist in developing and implementing the anesthesia care plan. The anesthesiologist assistant works under the medical direction of an anesthesiologist as a part of the Anesthesia Care Team (ACT). Anesthesiologist assistants obtain pre-anesthetic health history, perform preoperative physical exams, establish non-invasive and invasive monitors, administer medications, evaluate and treat life-threatening situations, and execute general and regional anesthetic techniques, as delegated by the anesthesiologist.
Anesthesiologist assistants generally work in the hospital setting but can work at any location where they can be medically directed by anesthesiologists. Anesthesiologist assistants provide anesthesia in surgical environments such as cardiac surgery, neurosurgery, transplant surgery, and trauma surgery centers. The incorporation of anesthesiologist assistants into ACT teams across the country is a dynamic process, and currently there are sixteen states, as well as Washington D.C. and the Veteran's Affairs Medical System, in which anesthesiologist assistants are able to work. In each of these states, the anesthesiologist assistant falls under the regulatory authority of the State Board of Medicine.
There are currently ten anesthesiologist assistant training programs in the United States, all of which offer degrees at the Master's level. Approximately 97% of currently practicing anesthesiologist assistants hold a Master's degree (some early anesthesiologist assistant graduates held Bachelor's degrees). All newly credentialed and future anesthesiologist assistants must complete an accredited Master's program for anesthesiologist assistants. Upon completion of the educational program, graduates must sit for a credentialing exam that is co-validated by the National Board of Medical Examiners and National Commission for Certification of Anesthesiologist Assistants. All anesthesiologist assistant programs are credentialed by the Commission on Accreditation of Allied Health Educational Programs (CAAHEP).
History of the profession
In the mid-1960s, the United States faced a shortage of qualified anesthesia professionals. This shortage prompted Doctors Joachim S. Gravenstein, John E. Steinhaus, and Perry P. Volpitto to evaluate the educational pathways of both anesthesiologists and nurse anesthetists. After their study was completed, a new educational track was designed to train a new type of non-physician anesthesia provider, who would be called an anesthesiologist assistant. The physicians hoped to achieve two goals that would make their new educational paradigm unique from what already existed in the field of anesthesia. First, they wanted to train a non-physician anesthesia provider with a premedical background, so that the individual would be readily eligible for upward mobility into medical school later in their career. Second, the new anesthesia professional would always remain under the supervision of an anesthesiologist. The physicians' plans came to fruition when the first AA training programs formed at Emory University in 1969. Today these goals are still upheld: 10% of AAs choose to later go to medical school and 100% of practicing AAs still work under the medical direction of an anesthesiologist.
Education
A master's level education is required to train anesthesiologist assistants to collect patient data, assist in the evaluation of patients' physical and mental status, document the surgical procedures planned, and administer the therapeutic plan for patient care that has been formulated with the anesthesiologist. There are ten programs available for the Anesthesiologist Assistant Master Degree in the United States. All programs are accredited by the Commission on Accreditation of Allied Health Education (CAAHEP). The newest program, Quinnipiac University, is not yet accredited by the CAAHEP.
Emory University in Atlanta, GA (Est. 1969)
Case Western Reserve University in Cleveland, OH (Est. 1970)
South University in Savannah, GA (Est. 2004)
Nova Southeastern University in Fort Lauderdale, FL (Est. 2005)
University of Missouriâ€"Kansas City in Kansas City, MO (Est. 2008)
Nova Southeastern University in Tampa, FL (Est. 2009)
Case Western Reserve University in Houston, TX (Est. 2010)
Case Western Reserve University in Washington, D.C. (Est. 2012)
University of Colorado in Denver, Colorado
Quinnipiac University in Hamden, Connecticut
To enroll in an AA program, candidates must complete a bachelor's degree and obtain a minimum of eight hours of documented anesthesia exposure by observation in the operating room. Additionally, these programs require premedical coursework and an entrance exam (either GRE or MCAT, MCAT preferred).
Program lengths range from 24 to 28 months with didactic and clinical instruction. Didactic training includes courses such as physiology, pharmacology, airway management, simulation laboratory, Basic Life Support (BLS) certification, Pediatric Advanced Life Support (PALS) certification, Advanced Cardiac Life Support (ACLS) certification, anatomy, monitoring, and applied principles and practices. In addition to class work, programs include 2000 to 2700 clinical hours per student. Students gain preoperative, intra-operative and post-operative experience with a variety of patients in a variety of surgical settings. In addition, each program may have additional educational experiences; for example, Nova Southeastern University provides students with courses on scientific research and publishing. All programs must have at least one board-certified, licensed anesthesiologist serving as a director. Additionally, each AA program must be based at, or in collaboration with, a university that has a medical school.
Because a premedical undergraduate education is required for acceptance into an Anesthesiologist Assistant program, all AAs are readily eligible to apply to medical school. This facet of the AA educational pathway distinguishes AAs from other non-physician anesthesia providers.
Certification
Graduates from an accredited educational program are eligible to take the initial certifying examination. The certifying examination for anesthesiologist assistants is a written exam administered by the National Board of Medical Examiners (NBME), which is contracted by the National Commission for Certification of Anesthesiologist Assistants (NCCAA). Once successfully completed, the NCCAA will award a time-limited certificate to each candidate. In order to maintain certification, anesthesiologist assistants need to register for 40 hours of Continuing Medical Education (CME) every two years and successfully complete a Continued Demonstration of Qualifications (CDQ) examination every six years.
Scope of practice
Anesthesiologist assistants are highly trained medical professionals who work under the direction of licensed anesthesiologists as a member of the Anesthesia Care Team (ACT). The following list is obtained from the American Academy of Anesthesiologist Assistants (AAAA), which states anesthesiologist assistant responsibilities may include but are not limited to:
Obtain an appropriate and accurate pre-anesthetic health history; conduct a physical examination and document relevant information in the patient anesthesia records.
Perform necessary diagnostic laboratory and related studies, such as drawing arterial and venous blood samples.
Establish non-invasive and invasive routine monitoring methods.
Implement regional anesthesia technique if appropriate.
Administer induction drugs, maintain and adjust appropriate anesthetic depth, manage additional treatment and deliver continuous anesthesia care and monitoring into and during the postoperative recovery phase.
Operate and analyze advanced monitoring methods, such as pulmonary artery catheterization, electroencephalographic spectral analysis, echocardiography, and evoked potentials.
Apply advanced life support practices, such as high frequency ventilation and intra-arterial cardiovascular assist devices.
Perform post-anesthesia rounds by documenting patient progress notes, collecting and recording case summaries, and by transcribing standing and specific orders.
Evaluate life-threatening situations, such as cardiac arrest, and treat with protocols established within BLS, ACLS, and PALS.
Perform anesthetic functions in intensive care units, pain clinics, and other settings, as appropriate.
Train and supervise personnel in the calibration, troubleshooting, and employment of patient monitors.
Delegate administrative duties in an anesthesiology practice or anesthesiology department in such functions as the management of personnel, supplies, and devices.
Contribute in the clinical instruction of others.
Operate and monitor regional anesthesia to include, but not limited to, spinal, epidural, IV regional, and other special techniques such as local infiltration and nerve blocks.
The AA scope of practice may differ slightly in relation to local practice, and is usually defined by the medically directing anesthesiologist, the hospital's clinical protocol procedures, the state's board of medicine, and state regulations.
Employment
The American Medical Association (AMA) states that "AAs are most commonly employed in larger facilities that perform procedures such as cardiac surgery, neurosurgery, transplant surgery, and trauma care." Studies by the AMA found entry-level salaries for 2006 Anesthesiologist Assistant graduates to be between $95,000 and $120,000 for the 40-hour work week plus benefits and consideration of on-call activity. They also found the high end of the salary range to be around $160,000 to $180,000 for experienced anesthesiologist assistants. Salaries vary by region and individual employer. Salaries are equal to salaries of nurse anesthetists within a department.
Anesthesiologist assistants are currently able to work in sixteen states plus Washington, D.C. and the US territory of Guam either by licensure or through physician delegation. AAs are recognized by the federal government and are authorized to work at all Veteran Affairs hospitals using the TRICARE insurance program.
Licensure defines the practice of AAs and is achieved through state law or by approval of the individual state board of medicine. Physician delegation is achieved through recognition of AAs by the state board of medicine or through statutes included in the state's medical practice act. The board of medicine affords Anesthesiologist's the right to delegate the responsibilities of their realm of practice to qualified individuals. Delegating authority requires that the physician remain ultimately responsible for the patient. In all states, the practice of anesthesiologist assistants is guided by the board of medicine. Any attempt to employ AAs under delegating authority should be made through the individual state's board of medicine.
States where AAs practice through license and certification:
Alabama
Colorado
District of Columbia
Florida
Georgia
Indiana
Kentucky
Missouri
New Mexico
North Carolina
Ohio
Oklahoma
South Carolina
Vermont
Wisconsin

States where AAs practice through physician delegation:
In the U.S. federal government
Anesthesiologist Assistants are employed at Veteran Affairs (VA) and Department of Defense facilities under the TRICARE health system since Dec 22, 2006.
The Veterans Health Administration Handbook 1123 on Anesthesia Service, includes the profession of anesthesiologist assistant as an allied health professional. Information in regards to required qualifications, coverage criteria, billing, and payment for Medicare services under the TRICARE program for anesthesiologist assistants is published by the Department of Health and Human Services.
AA's are currently classified as GS-0601, General Health Science Series employees, as defined by The Handbook of Occupational Groups and Families from the U.S. Office of Personnel Management.
See also
Anesthesia
Anesthesia provision in the US, a brief description of the different anesthesia providers in the US.
Anesthesiologist assistant in the UK
References
External links
American Academy of Anesthesiologist Assistants (AAAA)
National Commission for Certification of Anesthesiologist Assistants (NCCAA)
Commission on Accreditation of Allied Health Education Programs (ARC-AA)
A Study of Anesthesiologist Assistants by the Kentucky Legislative Research Commission
Anesthesiologist Assistants: Qualified Members of the Anesthesia Care Team
Comparison of AAs and CRNAs
Anesthesiologist Assistants: Being a (Care) Team Player
Federal Government: Anesthesiologist Assistants
VAs and AAs