The International Culinary Center was founded as the French Culinary Institute by Dorothy Cann Hamilton in 1984 and has locations in New York City, the San Francisco Bay Area and Parma, Italy. The facilities include industrial kitchens for hands-on cooking and baking classes, specialized wine tasting classrooms, libraries, theaters, and event spaces. The Center has several renowned chefs as its deans including Jacques Pépin, Jacques Torres, André Soltner, Alain Sailhac, David Kinch, Emily Luchetti, Cesare Casella, José Andrés, and Alan Richman.
In addition to its culinary education, The International Culinary Center has published three cookbooks, most recently The Fundamental Techniques of Classic Bread Baking and the James Beard award-winning books, The Fundamental Techniques of Classic Cuisine and The Fundamental Techniques of Classic Pastry Arts.
Locations
The school offers instruction as several locations around the world. Currently there are two in North America plus one auxiliary campus in Europe.
New York City Campus
This location includes five floors of facilities. It also includes the Michelin-recommended L'Ecole restaurant on the ground floor, that features fare from Center students, as well as a Culinary Theater that hosts events, forums, and lectures from famous graduates such as David Chang, Bobby Flay, Dan Barber, Wylie Dufresne, Christina Tosi and others. It is located at 462 Broadway, on the corner of Grand Street, in New York City, NY.
The International Culinary Center also is home to FCI Catering & Events, which creates and caters both on and off-premise private events.
California Campus
Opened in 2011, the Center's West Coast location is in the San Francisco Bay Area of California located in the town of Campbell, CA in Silicon Valley. It is between the wineries of Napa Valley and the agriculture of Salinas near the Monterey Bay. Their facilities consist of kitchens, theaters, event space and a wine tasting room, which hosts an intensive sommelier training course. The facility is located at 700 West Hamilton Avenue #300, Campbell, CA and occupies the top two floors of its building. The facility is the former location of another culinary school, the Professional Culinary Institute.
Parma Campus
The Center's Italian Studies program begins in New York City, where in addition to Italian culinary fundamentals, students study the Italian language. Students can then choose to continue their training in Parma, Italy, at ALMA, The International School of Italian Cuisine, where they will also spend nine weeks working in the kitchen of a noted Italian restaurant.
Curriculum
Instruction offered by the ICC is based on the Brigade de cuisine system. Classes offered vary by location and the facilities available at each location. This is a list of the classes and programs offered by the school and its three campuses.
Professional Culinary Arts
Classic Culinary Arts is a six to nine month program that teaches students classic French techniques and training for the stations on the line at Center's New York restaurant, L'Ecole (The school), as well as professional kitchens. Deans Jacques Pépin, André Soltner, Alain Sailhac, and David Kinch designed the core curriculum for this program.
The Farm to Table program teaches the French fundamentals with focuses on the Hudson Valley's agricultural history and includes tours of a four-season rooftop farm, a Hudson Valley dairy farm, a New York City greenmarket, and an award-winning winery. The program also includes a week-long Farm Powered Kitchen program created by Center graduate and James Beard Outstanding Chef, Dan Barber, Blue Hill Restaurant's kitchen team, and Stone Barns Center's farmers. Dean and Chef David Kinch (owner of Michelin star rated restaurant Manresa) promotes the Farm to Table program within the school.
The Pastry Arts program teaches students the classic French fundamental's to work as a pastry chef and how to open up their own pastry shop. Program subjects vary from pâte à choux and pâte feuilletée to sugar pulling and chocolate. Deans include pastry chefs Jacques Torres and Emily Luchetti. Dean Emily Luchetti has developed curriculum because she desired to influence the thinking of a new generation of pastry chefs.
The 300-hr Comprehensive Cake Techniques & Design Program covers the fundamentals of cake baking and construction, layers and fillings and how they work together, as well as both classical and contemporary decorating techniques. This program also teaches the skills to open and run a cake shop.
Over eight weeks, students learn to work with varied mixing techniques, pre-ferments, and leaveners to understand bread baking chemistry, and how to measure factors such as desired dough temperature and friction factor. Students also learn how to shape dough into uniform loaves such as braided challah, batard, and round boules.
This immersive seven-month program teaches hands-on Italian cooking at the New York campus and in Parma, Italy. The dean of Italian Studies is Cesare Casella, Chef and owner of Michelin star restaurant, Vipore.
A ten week program designed by the Center with Spanish chef and restaurateur, José Andrés, to instruct students using hands-on Spanish cooking for two months in New York and then to experience authentic Spanish cuisine and ingredients for one week in Spain.
The International Culinary is the first wine sommelier school in the world to be approved by the renowned Court of Master Sommeliers. The program combines lecture with intensive tastings, food pairings, and practice of service techniques. Students learn how to taste and evaluate bottles from around the world and have the option to take the Court of Master Sommeliers' Certified Sommelier Examination on-site at the end of the course.
Culinary Entrepreneurship
This ninety hour course teaches students interested in owning a restaurant, cafe, bakery, or other culinary establishment how to write a business plan, run a business and identify pitfalls that could costs money, time and frustration. Industry leaders such as owner of The Meatball Shop and ICC graduate Michael Chernow, come into the school to share their expertise, successes, setbacks, and secrets.
Authors and critics, Alan Richman, ICC's dean of Food Journalism, and Steven Shaw, founder of eGullet teach food writing and blogging in this ten week course.
Reception and review
In 1984 when the school first opened, it was visited by renowned chef Julia Child. Child was sufficiently impressed with the school that she arranged to have it profiled on Good Morning America a week later. Founder Dorothy Hamilton later stated that Child became the "fairy godmother" of the school, "She became a patron of the school the rest of her days."
In July 2014 a lawsuit was filed by two program graduates against the ICC for alleged misleading advertising claims regarding post graduation employment. The former students, plaintiffs Larry Grabovan and Daniel Oglander, completed an ICC program at the New York campus and subsequently landed entry-level jobs. Their suit is based on the claim that they could have gotten these jobs without any training. Then on November 10, 2014, New York Southern District Judge Katherine B. Forrest denied ICC's motion to dismiss the lawsuit. The legal team stated that the lawsuit now represents more than eighty students in addition to the original plaintiffs.
Awards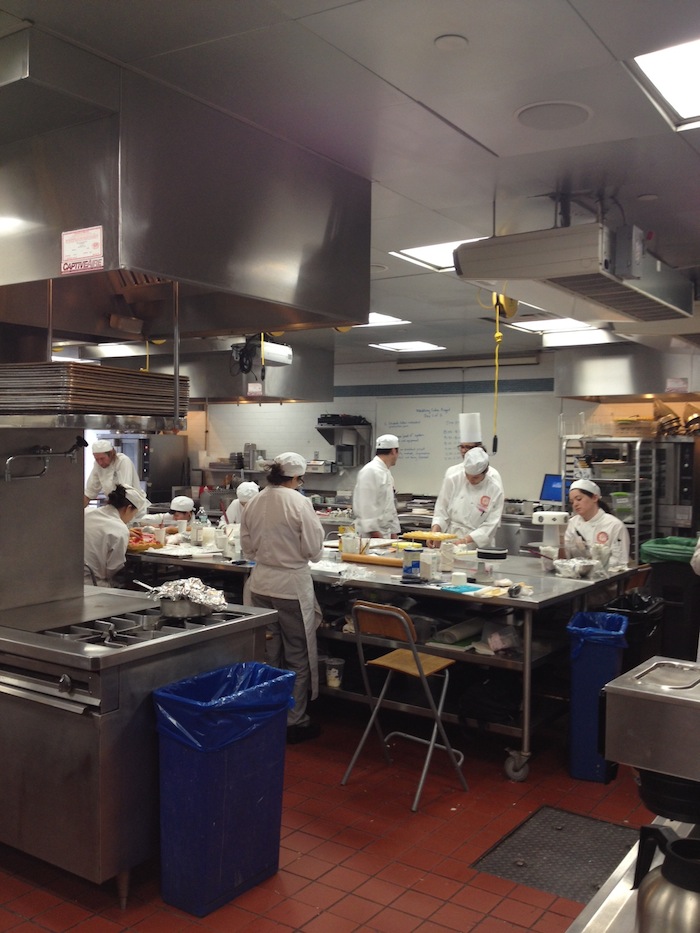 Culinary Hall of Fame Induction in 2013.
International Association of Culinary Professionals Awards of Excellence, Vocational Cooking School of the Year in 2014, 2012, 2010, 2006
References
External links
Official website

FCI Catering & Events