The University of California, Los Angeles, School of Law is the law school of UCLA, located in the Westwood neighborhood of Los Angeles, California, United States. Founded in 1949, it is the first public law school in Southern California and the youngest top-ranked law school in the nation. In 2014, U.S. News & World Report ranked UCLA Law tied at No. 16. The school has been ranked between 15th and 17th since 2009. The school has a student to faculty ratio of 10.4 to 1. Its Class of 2013 had a bar passage rate of 88 percent, the second highest in California behind Stanford Law.
History


UCLA School of Law's Asylum Clinic - Visit: http://www.uctv.tv) In what must be one of the most unusual classes offered at UCLA, a group of 10 law students hold in their hands the fate of people who ...
Founded in 1949, UCLA School of Law is currently one of five law schools within the University of California system. The others are UC Berkeley School of Law, King Hall at UC Davis, UC Hastings College of the Law in San Francisco, and UC Irvine School of Law.
UCLA Law's first dean was L. Dale Coffman, who recruited elderly Harvard dean Roscoe Pound as one of the school's first professors. The school was forced to operate in a Quonset hut for its first two years until a proper building was constructed. In September 1949, Pound insisted on delivering the school's first ever keynote address in the Latin language, in the Quonset hut.
The UCLA Law Review, the law school's flagship scholarly journal, was first published in 1953. From 1971 to 1983, UCLA School of Law published the Alaska Law Review, a publication dedicated to the legal issues that pertain to Alaskans. Additionally, the first scholarly journal in the nation focused on issues affecting Latinos, the Chicana/o Latina/o Law Review, was first published in 1972 as the Chicano Law Review.
Degrees and areas of specialization
The school offers the standard Juris Doctor degree as well as several programs of specialization within the degree (which are indicated by notations on a student's diploma). Students can specialize in Business Law and Policy, Entertainment Law, Public Interest Law, Critical Race Studies, and Law and Philosophy. The roughly 300 students who begin Law School at UCLA every year are divided into sections in order to encourage a sense of community. Students take all of their first year courses with their sections.
The Socratic method is still in use by most professors, but some faculty allow for a slightly more relaxed classroom atmosphere than at other top-tier law schools. The school also has traditionally offered a strong clinical program, which is housed in its own wing (built at a cost of $9 million). Each year, the clinical program puts students through realistic simulations of trials, depositions, and client meetings; these are staffed with a pool of nearly 500 volunteers drawn from all over the Southland who play parties, witnesses, judges, and jurors.
Several joint degree programs are available, requiring four years of study, and resulting in the simultaneous award of a Juris Doctor and a master's degree in one of the following areas: Afro-American Studies, American Indian Studies, Law and Management, Public Health, Public Policy, Social Welfare, or Urban Planning.
The school also offers a Master of Laws (LL.M.) law program, which involves one year of post-law-graduate studies. This program is popular among foreign students, who then take the California bar exam.
Finally, it offers a Doctor of Juridical Science (S.J.D.) degree, designed for students who already have a J.D. and hope to become law professors.
Faculty and students
UCLA School of Law has over 100 faculty members with expertise in all major disciplines of law; it "is one of the most diverse in the country."
For the class entering in the fall of 2013, 1,567 out of 5,563 applicants were offered admission (28.2%), with 293 matriculating. The 25th and 75th LSAT percentiles for the 2013 entering class were 162 and 169, respectively, with a median of 167. The 25th and 75th undergraduate GPA percentiles were 3.51 and 3.88, respectively, with a median of 3.79.
The school sponsors a chapter of the Order of the Coif, a national law school honorary society founded for the purposes of encouraging legal scholarship and advancing the ethical standards of the legal profession.
Location
UCLA School of Law is located on the northeastern edge of the UCLA campus in the Westwood area of Los Angeles. The school is approximately five miles from the Pacific Ocean.
The school proper is housed in a five-story brick building known simply as the Law Building. The oldest parts of the Law Building's interior are notorious for a "high school atmosphere" and "dark, drafty classrooms," but have been extensively improved by the addition of the clinical wing in 1990 and the new law library in 2001. A few offices, like the Office of Career Services, are housed in an adjacent building, Dodd Hall.
The campus sits on the sloping foothills of the Santa Monica Mountains, between the communities of Brentwood to the west and Holmby Hills to the east. The entrance to the Playboy Mansion is a short way up Sunset Boulevard, in Holmby Hills. Just beyond Holmby Hills is Beverly Hills.
Rankings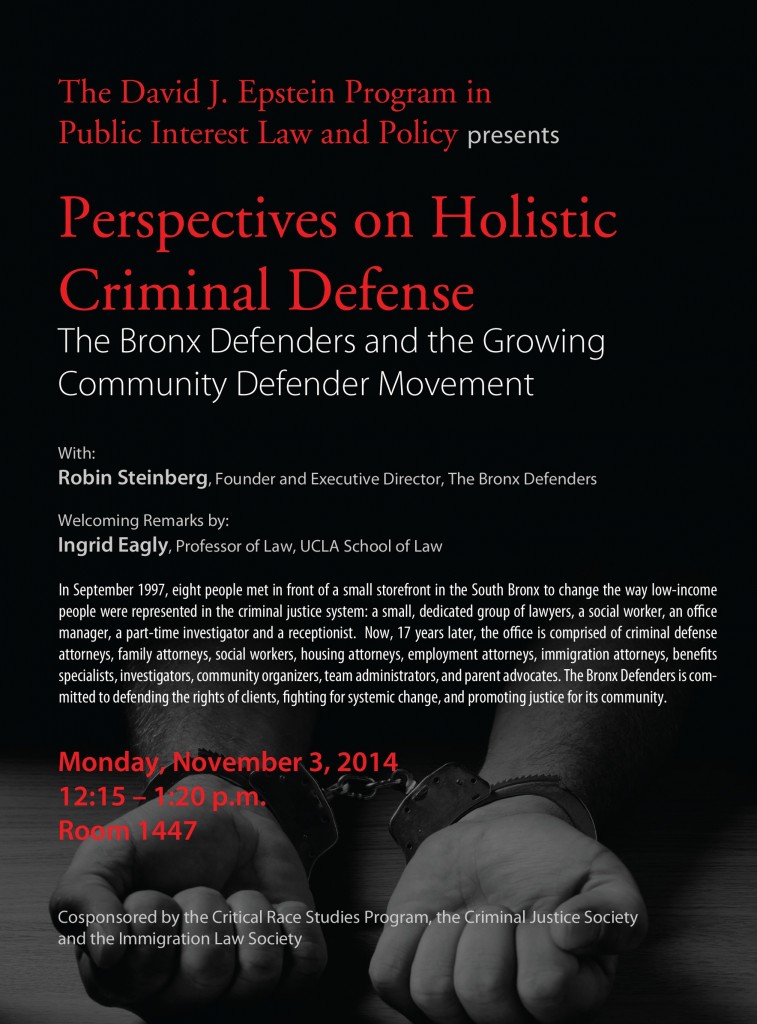 In 2014 US News & World Report ranked UCLA as 16th of U.S. law schools. In 2010, it had the largest student body in the UC system after Hastings, and the smallest student-faculty ratio. UCLA Law has a student-faculty ratio of 10.4:1. Also it was the second least expensive law school in the UC system, Hastings being the cheapest.
According to Brian Leiter's Law School rankings, UCLA Law ranks 8th in the nation in terms of scholarly impact as measured by academic citations of tenure-stream faculty during the years 2009â€"2013.
The Hollywood Reporter ranked UCLA the number one school for entertainment law in 2012 and 2014.
Bar passage rates
Based on a 2001â€"2007 6 year average, 88% of UCLA Law graduates passed the California State Bar.
Post-Graduation employment
American Bar Association data shows that 273 of 332 (82%) of 2013 graduates had secured full-time, long-term, JD-required employment within nine months of graduation. A total of 108 graduates (32.5%) had found employment in firms of more than 100 lawyers, and 23 graduates (6.9%) had secured federal judicial clerkships.
Specialized centers and institutes
Institute for Business Law and Policy
In 2011, the business law and policy program established the Lowell Milken Institute for Business Law and Policy with a 10 million dollar gift from alumnus Lowell Milken. The institute focuses on research in business law and policy in bankruptcy, corporate law, corporate governance, intellectual property, international business transactions, real estate, securities regulation and tax.
Center on Climate Change and The Environment
Founded in 2008 with a gift from Dan A. Emmett and his family, the Center was the first law school center established to focus on climate change. The Emmett Center curriculum details law and policy solutions to the climate change crisis locally, statewide, nationally and internationally.
Critical Race Studies Program
Founded in 2000, the program, which hosts many legal scholars, studies the intersection of race and law.
International Human Rights Program
The International Human Rights Program "engages in research, advocacy and public education to advance the norms of international human rights law."
Williams Institute on Sexual Orientation and Gender Identity Law and Public Policy
The Williams Institute was founded in 2001 through a grant by Charles R. "Chuck" Williams. Williams's inaugural donation of $2.5 million to create the institute was the largest donation ever given to any academic institution in support of a gay and lesbian academic program in any discipline. In 2013, Williams donated an additional $5.5 million to support the institute.
Ziman Center Real Estate law
In 2001, the UCLA Law School real estate program was named in honor of Richard Ziman, who established a permanent endowment. In 2005, the Ziman center was reconstituted as a campus-wide center of both UCLA Anderson School of Management and UCLA School of Law.
Program in Public Interest Law and Policy
In Spring 1996, in response to the need for better trained public interest lawyers, the UCLA School of Law established the David J. Epstein Program in Public Interest Law and Policy. In 2000, the Program graduated its inaugural class of students.
Journals and student organizations
Journals and law reviews
UCLA Law Review
UCLA Asian/Pacific American Law Journal
UCLA Chicano/Latino Law Review
UCLA Entertainment Law Review
UCLA Journal of Environmental Law and Policy
UCLA Journal of International Law & Foreign Affairs
UCLA Journal of Islamic and Near Eastern Law
UCLA Journal of Law & Technology
UCLA Pacific Basin Law Journal
UCLA Women's Law Journal
National Black Law Journal
Student organizations
Moot Court Honors Program
Muslim Law Students Association
UCLA OUTlaws
Notable people
Alumni
Academia
Gary Chartier - professor, La Sierra University, law and business ethics (2012-), associate professor (2005-2012)
Drucilla Cornell â€" professor, Rutgers University, in political science, comparative literature, and women's studies (2001â€"); former professor of law at Benjamin N. Cardozo School of Law (1989â€"1994) and Rutgers School of Lawâ€"Newark (1994â€"2001)
Joshua Dressler â€" professor, Moritz College of Law, Ohio State University (2001â€"); prominent author in criminal law and criminal procedure
Richard D. Freer â€" professor, Emory University School of Law (1983â€"); expert in civil procedure
Eric Goldman - professor, Santa Clara University School of Law (2006-); expert in Internet law
Richard L. Hasen â€" Chancellor's Professor, University of California, Irvine School of Law (2011â€"); expert in election law and campaign finance
Laurie L. Levenson â€" professor, Loyola Law School; TV legal commentator, gained fame during Rodney King and O.J. Simpson trials
Susan Westerberg Prager â€" former Dean of the School of Law (1982â€"1998) â€" one of the first female law school deans; Professor at the UCLA School of Law (1972â€"1998, 2001â€"2006); Provost of Dartmouth College (1998â€"2001); President of Occidental College (2006â€"2007), Executive Director of Association of American Law Schools (2008â€"2013); Dean of Southwestern Law School (2013â€")
James Tomkovicz â€" professor, University of Iowa College of Law (1982); expert in criminal procedure
Eugene Volokh â€" UCLA Law professor and legal commentator
Business and private practice
Val Ackerman â€" first female president of USA Basketball (2005â€"2008); President of the WNBA (1996â€"2005)
Leslie Abramson â€" criminal defense attorney who defended Lyle and Erik Menendez and Phil Spector
Ann Baskins â€" General Counsel, Hewlett-Packard (2000â€"2006)
Harland Braun â€" criminal defense attorney who defended John Landis and George Folsey, Jr. against manslaughter charges in the Twilight Zone: The Movie case
Rinaldo Brutoco â€" entrepreneur; co-founder of early pay cable company Channel 100
John Howard â€" director of the National Institute for Occupational Safety and Health (2002â€"2008, 2009â€")
Stewart Kwoh â€" founder and executive director of the Asian Pacific American Legal Center
Brian Lee - entrepreneur, founder of LegalZoom
Stewart Resnick â€" president and CEO of Roll Global
Nelson Rising - real estate development executive, former CEO of Catellus Development Corporation
Martine Rothblatt - co-founder of PanAmSat and Sirius Satellite Radio
David P. Steiner â€" CEO, Waste Management, Inc
Government and politics
Stewart Baker â€" Assistant Secretary for Policy, U.S. Department of Homeland Security (2005â€"2009)
Howard Berman â€" United States Congressman from California
Peter Carlisle â€" Former Mayor of Honolulu (2010-2013) and Prosecuting Attorney of Honolulu (1996-2010)
Anna Caballero â€" Secretary of the California State and Consumer Services Agency (2011â€"), member of the California State Assembly (2006â€"2010)
David Dawson â€" member from the 14th District, Iowa House of Representatives (2013â€")
Roger Dickinson - member of the California State Assembly (2010-)
Kirsten Gillibrand â€" United States Senator from New York (2009-)
Rachel Goslins - executive director, President's Committee on the Arts and Humanities (2009-)
Jerry M. Patterson â€" member of the U.S. House of Representatives from California's 38th Congressional District (1975â€"1985)
James E. Rogan â€" California State Assemblyman, 43rd District (1994â€"1996); Congressman from California's 27th Congressional District (1997-2001); Under Secretary of Commerce for Intellectual Property and Director of the USPTO (2001â€"2004); Judge of the Los Angeles Superior Court (2006â€")
Linda Sánchez â€" Congresswoman from California's 39th Congressional District (2002â€")
Henry A. Waxman â€" Congressman from California's 30th Congressional District (1975â€")
Jack Weiss â€" member, Los Angeles City Council (2001â€"2009)
Joshua Wright â€" commissioner, Federal Trade Commission (2013â€")
Judiciary
Percy Anderson - United States district judge on the U.S. District Court for the Central District of California (2002â€")
Janice Rogers Brown â€" judge, D.C. Circuit Court of Appeals (2005â€"); former Associate Justice of the Supreme Court of California (1996â€"2005)
Joe Brown â€" former judge of the Criminal Court of the Thirtieth Judicial District of Tennessee (Shelby County); star of court show Judge Joe Brown (1998â€"2013)
Audrey B. Collins - associate justice, California Court of Appeal for the Second Appellate District (2014-); former United States district judge on the U.S. District Court for the Central District of California (1994â€"2014)
Dale A. Drozd - chief magistrate judge, U.S. District Court for the Eastern District of California (2011-), magistrate judge (1997-2010)
Gary Allen Feess â€" United States district judge on the U.S. District Court for the Central District of California (1999â€")
Gil Garcetti - Former Los Angeles County District Attorney (1992-2000)
Dolly M. Gee â€" United States district judge on the U.S. District Court for the Central District of California (2010-)
Philip S. Gutierrez â€" United States district judge on the U.S. District Court for the Central District of California (2007-)
José Huizar - member from the 14th District, Los Angeles City Council, (2005â€")
Sandra Ikuta â€" judge, Ninth Circuit Court of Appeals (2006â€")
Robert Clive Jones â€" Chief Judge, U.S. District Court for the District of Nevada (2003â€")
William B. Keene - Former California Superior Court Judge and presiding judge on the court show Divorce Court.
William Duffy Keller - United States district judge on the U.S. District Court for the Central District of California (1984â€")
Alex Kozinski â€" Chief Judge, Ninth Circuit Court of Appeals (1985â€")
Alicia Limtiaco â€" United States Attorney of Guam
Jeffrey T. Miller â€" judge, U.S. District Court for the Southern District of California (1997â€"2010), Senior Judge (2010â€")
Salvador Mendoza, Jr. - United States district judge on the U.S. District Court for the Eastern District of Washington (2014-)
Dorothy Wright Nelson â€" Senior Judge, Ninth Circuit Court of Appeals (1979â€"); former Dean of the University of Southern California School of Law (1969â€"1980)
Jacqueline Nguyen â€" judge, Ninth Circuit Court of Appeals (2012â€"), United States district judge on the United States District Court for the Central District of California (2009â€"2012)
Thomas W. Sneddon, Jr. - Santa Barbara County District Attorney (1983-2010)
Kim McLane Wardlaw â€" judge, Ninth Circuit Court of Appeals (1998â€")
Paul J. Watford â€" judge, Ninth Circuit Court of Appeals (2012â€")
Entertainment
Thomas Bliss â€" motion picture producer with credits on over 30 films, including The Hurricane and Air Force One
Jeff Cohen â€" entertainment lawyer best known for work as child actor in The Goonies (1985)
Robert Fitzpatrick â€" entertainment attorney, film producer, and music executive; President of Allied Artists International
Cynthia Gouw â€" television show host, news anchor, reporter, actress, and model
Chip Johannessen â€" writer and producer for several popular television shows
John Kerr - Tony Award-winning actor best known for Tea and Sympathy
Kalyanee Mam â€" director and producer of the award-winning documentary A River Changes Course
George Mastras â€" writer and producer of AMC's Breaking Bad
Stephan Pastis â€" creator of the comic strip Pearls Before Swine
Kelly Perdew â€" winner of Season 2 of The Apprentice
Stacey Snider - principal partner, co-chairman, and CEO of DreamWorks
Lauren Woodland â€" Emmy Award nominated actress
Other
Vincent Bugliosi â€" Attorney and writer of non-fiction works as Helter Skelter and The Betrayal of America: How the Supreme Court Undermined the Constitution and Chose Our President.
Cara Dunne-Yates â€" blind Paralympic athlete
Julie Heldman â€" retired professional tennis player
Lowell Milken â€" co-founder and chairman of the Milken Family Foundation
Karen I. Tse â€" human rights activist and social entrepreneur
Faculty
Current
Richard L. Abel â€" member of the faculty since 1974; expert on sociology of law
Khaled Abou El Fadl â€" Omar and Azmeralda Alfi Distinguished Professor of Law and expert in Islamic Jurisprudence; Chairman of Islamic Studies Department at UCLA
Norman Abrams â€" author of leading casebooks on federal criminal law, anti-terrorism law and evidence; member of the faculty since 1959; former UCLA Vice Chancellor of Academic Personnel; former acting Chancellor
Stephen Bainbridge â€" expert on corporations and business law
Ann E. Carlson - expert on U.S. environmental law and policy
Kimberlé Williams Crenshaw â€" founding coordinator of the "Critical Race Theory Workshop" movement; Also teaches at Columbia Law School
Jill R. Horwitz - expert on health law, economics, and policy as well as the law of nonprofit organization
Gerald P. Lopez â€" author of works on rebellious lawyering, community lawyering, re-entry issues and Director of the Center for Community Problem Solving
Lynn M. LoPucki â€" Security Pacific Bank Professor of Law. LoPucki's Bankruptcy Research Database provides data for empirical work bankruptcy
Daniel H. Lowenstein â€" expert on election law
Jennifer Mnookin - expert on evidence (law)
Grant S. Nelson â€" noted authority on real estate law
David Nimmer â€" expert on copyright law
Frances Olsen â€" expert on feminist legal theory
Seana Shiffrin â€" expert on philosophy of law
Richard H. Steinberg â€" expert on international law
Eugene Volokh â€" author of textbooks on First Amendment law and academic legal writing; author of over 45 law review articles; founder of The Volokh Conspiracy weblog
Adam Winkler - Author of Gunfight: The Battle over the Right to Bear Arms in America
Former
Brainerd Currie â€" professor (1949â€"1952); expert on the conflict of laws in the United States
Jesse Dukeminier â€" professor (1963â€"2003); expert on property law, wills, trusts, and estates
Bill Felstiner â€" assistant professor (1973â€"1976); expert on sociology of law
Jody Freeman â€" professor (1995-2005); expert on administrative law and environmental law
James L. Malone â€" associate dean (1961â€"1967); later became Assistant Secretary of State for Oceans and International Environmental and Scientific Affairs (1981â€"1985)
Mari Matsuda â€" first female Asian-American law professor to obtain tenure at any law school in the United States, while teaching at UCLA Law in 1998
Richard C. Maxwell â€" Dean of the School of Law (1958â€"1969)
Melville B. Nimmer â€" professor (1962â€"1985); expert on U.S. copyright law and father of David Nimmer
Cruz Reynoso â€" professor (1991â€"2001), former Associate Justice of the Supreme Court of California (1982-1987)
Michael H. Schill â€" dean and professor (2004â€"2009), expert on property law and urban planning; became president of the University of Oregon in 2015
Lynn Stout â€" professor (2001â€"2012); expert on corporate law, securities, and derivatives
References
External links